If you are active in the online dating world, then you have most likely come across the Mixxxer app. Maybe you have even been tempted to give it a try. Well, I have and here I will share some of the results of my research. But first, many people ask me why I test so many of these tinder-like apps and I'm here to set that record straight.
I like testing new, promising dating apps. It's something that I consider to be like a hobby that I enjoy, but it's also closely related to my personal life as well. I use these to hookup and trying new things is just what I love doing. So I've tried a lot of them and know which work and which don't. I feel super confident, enough to tell you what I found wrong with the Mixxxer app and why I would not recommend it to anyone. For starters, I hate that they try to be the swing lifestyle network when it's nothing of the sort.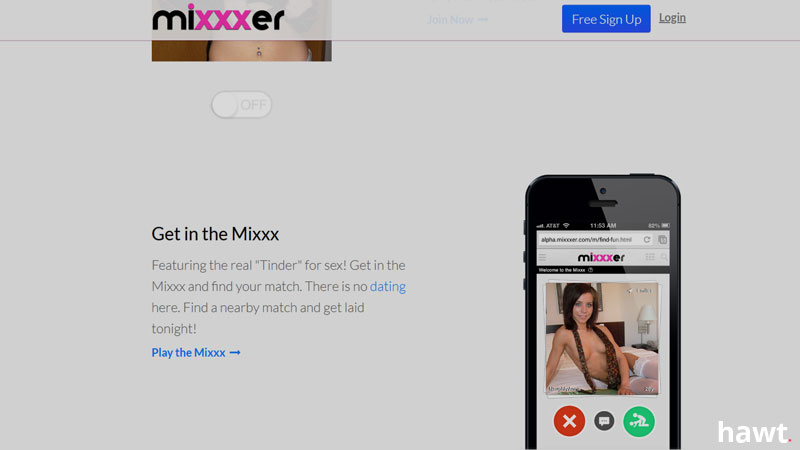 Why I Recommend Avoiding Mixxxer
Here are the reasons why I suggest steering clear of the Mixxer.com site. There are plenty of them, but I've decided to focus on the most important aspects versus filling your head with too much white noise.
It Doesn't Work As Promised
The main advertising point for the Mixxxer app is that they cater to adults looking for sex partners and swinger couples near you. All this is good if they only delivered on the promise. The problem is that they do not deliver.
Many of us are interested in adopting or attempting to a swinger relationship. We'd all like to try it sometime. What better place than to do that than using a mobile app dedicated to this, right? Well, not exactly. The Mixxxer.com site and mobile app are not the places to accomplish this task. You will not hook up using them and you're certainly not going to meet any swinging couples here.
Sure, the site has a nice, clean design that's attractive to the eye. But the design doesn't mean squat if the overall satisfaction of its users is not met. While they advertise a growing number of members, I suspect that this is just a lot of fake profiles managed by the staff so it seems as though there are a lot of users. Truth be told, you'd be better off doing a search for escorts online on the Adult Search Directory versus wasting time chatting with bots.
Entertainers = Fakes
This site employs the services of "entertainers" that are there just to keep the paying customers occupied, not the fun way though, trust me. These people are only here to give off the illusion that it's vast and active. You can't meet them in person, you can't chat via video with them and you definitely can't have sex anytime with them. So basically they are Mixxxer employees that are paid to keep up fake profiles and only make you think that you're about to hook up with a swinger couple.
Terrible Terms
While almost none of you will ever be bothered to read the terms of use of the Mixxxer site (or any other site for that matter), I'll give you the condensed version.
The site is clearly stating in their terms of use and privacy policy, and it is not at all favorable for the end user. They will collect and store any type of information you provide to them and will use it freely at their own will for product offerings, promotions and the like.
The site will also collect your private messages and anything else you put on there and will share it with third parties and government agencies, if necessary. This is something that you should be aware of. If you don't provide your personal information freely, you will not be able to use all the site's features, which even though is blackmail, is fine by me, as the Mixxxer.com site and mobile app don't offer anything special.
Conclusion: Mixxxer Mobile App Failed Me, It'll Disappoint You Too
While there is nothing wrong with using an adult dating website and app, I can't recommend Mixxxer.com to anyone. I have tested it and found it lacking in many ways. I have also tested a lot of other dating apps with the same model and found many that actually work great and are a very convenient way to meet someone. If you're looking for someone to hook up with, then I'm going to suggest using one of the sites listed below. If you're strictly on the hunt for swingers, then the original swinger site is none other than adultfriendfinder.com. Check out my review of that site if interested.