Hentai doujin… This porn corner is pretty fucking awesome, and today I have an up and comer for you, and it's called 9Hentai! Yes, this name isn't fucking creative, I know it, and you see it, but if we focus on other things, you will forget about the terrible name these bastards came up with because there is just so much here to see! This is a simple site with a pretty gargantuan and beautiful collection of smutty comics, so you will definitely want to know more about it, loser! Are you into manga? Want to learn more about it? Stay with me, here! I will share everything I have learned so far with you. About 9Hentai, of course. What did you think, that I would also share my sex hookup hacks? No way! You are not cool enough for that!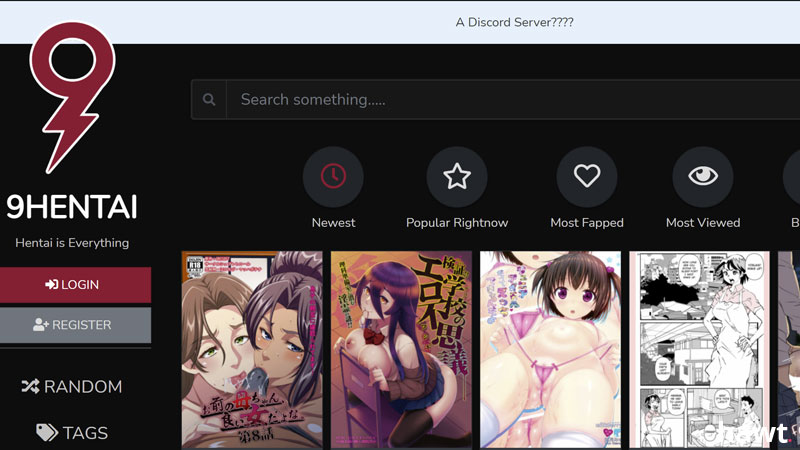 My Review Of 9Hentai.to
So, even though this site is all about manga and sex comics, don't worry – everything is translated into English, the only fucking language you understand, pal! Why don't you learn Japanese? I mean, is it that hard? Sekkusu is sex, Poruno is porn and Inkei is fucking penis! OK, so I used Google Translate for that, but still… It doesn't seem like a real tough language. I think I could learn it in a year. They only have like, what? 50,000 symbols? Easy peasy lemon squeezy!
But we all know I have always been a smart kid. And what about these folks? Yes, they did some things cleverly here, and for some, they were stupid. For example, they decided they want to fill the site with steamy doujins, which are pretty diverse. But they don't have pics and other porn content here, no videos and gifs, just comics. I mean, really? Why? But hey, they have rule 34 smutty parodies, loli, t-girls and so much more! This is not bad.
9Hentai Offers Comics, and Comics Only
Ok, so we can only work with comics here. Let's see what we have! First of all, 9Hentai is a modern hentai site, and they use a deep tag system for their content organization. This is the only way to organize this amount of work! So, what you have here are big titties, BJs, lesbos, and all the basics. But if you are into going deeper, you have stuff like breast expansion, cock slapping, bodysuit, and more. OK, so you must admit this is cool!
Where else will you see these tags? This is pretty specific and interesting, especially this cock slapping thing. What is that? I really want to see it! When I saw the name, I thought these would be moments where bitches slap cocks. You know, hit them with their palms. But no, cock slapping is actually a boner slapping a babe's cheek. This is even more arousing! And yeah, these sluts definitely deserve it.
So, 9Hentai is awesome because of many things, but one of them is the fact they know about Rule 34 and they go by it. What is Rule 34? These are smut parodies of some popular works. These doujins have plenty of that! Have you heard of One Punch Man? This is one of the coolest anime shows ever, and they have a parody based on it! Yes, they dared to do that and much more. They have hundreds of parodies, so many great comics that are both funny and sexy.
But I am not just impressed by this. I am also fucking amazed at their basic features. Just like every good xxx site, they have sorting options you can use to find the exact content you came for. Maybe a downside would be that their navigation tools look different compared to other sites. Maybe it's not what you expect. It's not that familiar, like most smut sites. But they do have everything! Favorites, most fapped comics, download options… Honestly, I am fucking buying it! This place is awesome, and even though it might look messy at first, when you get used to it, it's not.
Awesome Layout But Some Flaws
So, no one can deny that their layout is modern. I am not even used to it because most doujin sites are not so modern-looking, really. But these folks… These folks are up to date, which is so fucking awesome! What I love about this place is that they don't really have many ads, and it will take long until you encounter the first one. No pop-ups that make you want to kill yourself, no pop-unders that are also annoying… Just a few banners floating around. However, these can be easily ignored.
And what happens when you enter this site? You will spot a hot-ass gallery of all their latest cunts. These are featured pussies, and you will always see who the author is, just like what the title is. But who notices that shit when we have all these tits and cunts?!
The site has a search bar at the top of the page. Here you can set your advanced adjustments, and choose details like page count range, excluded and included tags, and more. This search engine is very flexible. And everything else here works fine, but I need to tell you what I dislike. They have a list view nowhere on the site! No-fucking-where! I don't think I can separate these two morphemes like that, but you get the point. No fucking lost view.
Other Goodies
But let's continue with the hot things. Below their search feature, they gave us categorization buttons. So, you can use them to get your hands on the newest, most fapped, popular, alphabetical order, and most viewed content. Everything here is pretty standard, except for this most fapped thingy. What is that, anyway? It's so cool! These are actually the comics that are the favorite ones among the users of the site. So, you can see what other fappers liked the most and maybe you share these opinions. After all, if one person likes something, the chances are high someone else will also like it. We are not that different.
They have more cool things. For example, their Jump Page button is everything! It helps you jump to any page of their main gallery. Let's say you have already read hundreds of these doujins. Of course, you want more. You are not satisfied with the first 20 pages anymore, you need to skip to pages 21 and more. Isn't that awesome? And you can also browse the content by character, parody, tag, group, and artist. If you want to fap to sluts you are familiar with, you will like this parody feature. But all these things are useful and you will like them.
When you search by characters, this is also pretty cool and tempting, and you can find that waifu you love! Whatever you want, you are covered. They have a video link, but this is still not functional. If you want videos, you won't find them here, but it looks like they are doing something about it. What do you think, will these be some manga videos or regular porn videos? I am actually pretty interested to see! And I like how they are always trying to improve the platform, doing new stuff every once in a while.
How Many Doujins Do You Have Here?
So, 9Hentai is a site with thousands of doujins, all translated into English. But this is not all you need to know. This is some pro-quality art, exceptional! Sometimes this quality can be iffy, if the content was done in MSPaint, but most of the art is high-quality, and I even appreciate how the bodies of these girls are realistic. They are not perfect. They have bellies, extra skin, things you will notice that make them so realistic. I actually really like this because whoever did that, did a terrific job!
Their Rule 34 archive here is exceptional. No matter what alphabet letter you choose, you have hundreds of these doujins and some parodies are based on obscure things. Do you know Mega Man, and who Roll is? You can fap to this character! You have at least 10 doujins for that, and even more if you like other characters. They also have many video game parodies, but that is not even all. Some things here are too weird! They have some Hitler doujins! It looks like they are very popular. Who would have guessed?
What I Love About 9Hentai
hentai comics translated into English
a lot of smutty content that is pretty fap-worthy
they only have a few ads, almost none
What I Hate
it's a little bit messy at first
the navigation tools are not like on most sites
we don't have a list view
Final Thoughts
9Hentai is a doujin site where you will see a lot of sexy stuff. These drawn ladies are sexy even though they are not real people. The site looks good and modern, and even though you might find it messy at first, this is just the impression until you see that everything is actually easy to find.