If you are thinking of hiring an escort for a night of debauchery, then you may be tempted to check out the many listings published on websites for such services. I'll start by stating that you should not be hiring an escort. However, for those that choose to ignore my advice, here's a complete review of a site called Leolist.cc. It's actually a mainstream classified site, where one can find an array of different things as well as a hooker for hire services.
But first, understand that this is NOT a smart move. Not in any sense of the way. If you're hiring girls to have sex with you, then you're going it all wrong, my friend.
I'll be talking about Leolist.cc, the Canadian classifieds site with a very unclear origin and some shady activities. Stay on this page, keep reading and learn why you should avoid it at all costs.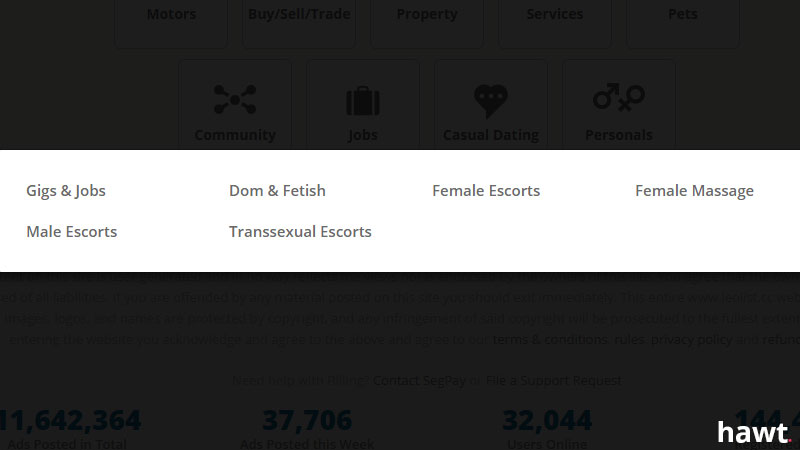 My Full Review Of Leolist.cc
Holding nothing back, here's what you need to know before you go foolishly take action.
The Leo List Website
Leolist.cc is a part of Unicorn Media Limited, a Hong Kong company for which there is little to no information online. Besides the buy/sell ads, there is quite the substantial "personals" section. Think of this as being one of the Craigslist dating alternatives I guess, but for Canadians. Once you enter this part of the site, you're shown a wide range of options and if you read through them carefully, you will notice that there are a lot of choices, but not the obvious Men for Women or Women for Men.
This is not the worst thing about this website either. Once you click on any listing within the casual dating section, you are taken to the actual posting which rarely makes any sense. The posts are poorly worded, they display cheesy messages and have no photos in them. There is an email on some of the posts, but after looking at the email and reverse searching, it's easily noticeable that the lists are for escorts, and not actual real girls looking for a date.
The Listings
The Personals section of the site is laden with ads and listings for erotic massages, girls for hire and the like. Once you make a selection, you are taken to the ad where there are still no photos, even if the site rates them as verified posts.
I've looked hard, and could not find any in-depth or verified information about the girls listed here, and combined with the lack of images, it all seems very fishy. There is no chance to check the background of the girls or to verify their health status, which puts you at great risk.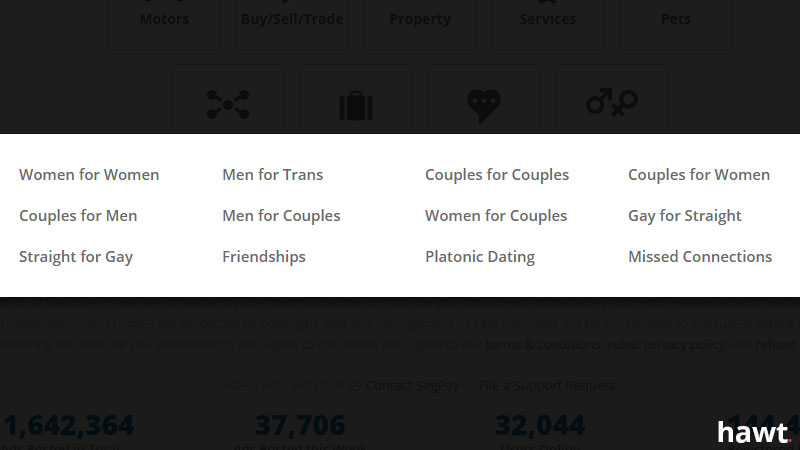 A Front For Hiring An Escort
Nowhere on the site is there a user protection rule, and it is possible that the site is gathering all the personal data you are inputting. They have the right to disclose the info to law enforcement agencies should they wish to do so. These sites are often targeted to hacking attacks, which is another point of exposure. With the status of prostitution in Canada being as it is, anyone caught using the services provided through the Leolist.cc Personals will likely be prosecuted.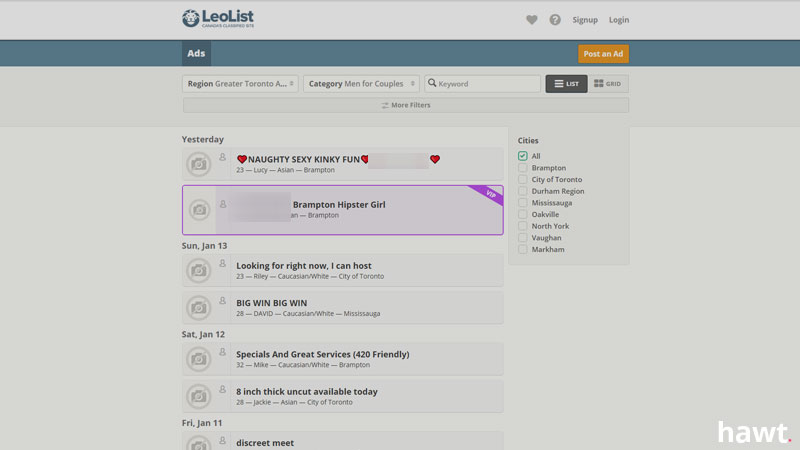 Conclusion
Finding a girl to bang through the Personals section on Leolist.cc is a big fat NO. The site in general and this section, in particular, is a front for hiring an escort, and without the photos or any type of verification or guarantee, you are setting yourself up. For what you ask? Well, you're setting yourself up to be robbed, contracting some disease, getting in trouble with the law or even become a victim of some pimp's fist.
If you are looking to get laid, I suggest you join a legitimate adult dating site like the Uber for sex app, a monster site called Fling.com or perhaps the Snapsext site. Find yourself a real person to have sex with, one that's looking for a healthy hookup and will not ask you for money.