Due to several reasons which I've covered, the most popular casual dating section on one of the most famous online ad platforms, Craigslist, has disappeared. It's been taken down for good and for good reason too. Now, countless dating site users whose casual sexual encounters depend mainly on the Personal Ads section are left without their main source of hook up chances. Just because the Craigslist Casual Encounters section is dead, that doesn't mean you can't hook up with someone.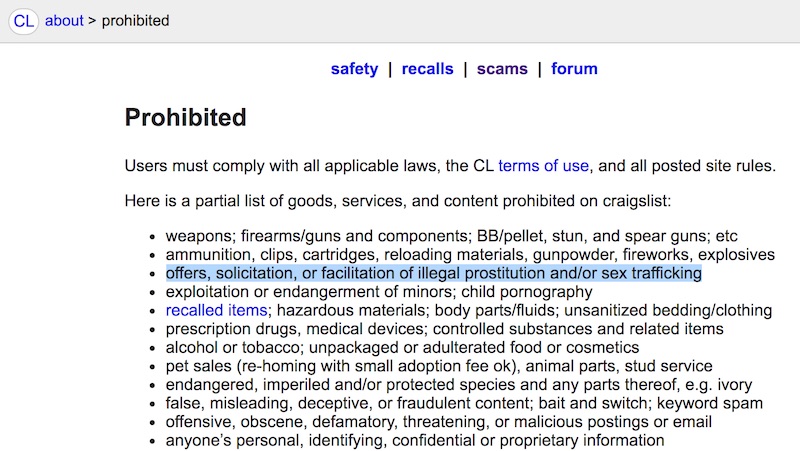 Craigslist Casual Encounters: It's Demise & Alternatives To Consider
The Personal Ads on Craigslist was a chance for many people to find a suitable match for engaging in a sexual experience without any further expectations. And the people looking for kinky stuff need to go elsewhere to get their satisfaction. And the advancement of the technology and because everyone has the world in the palm of their hand, okay their smartphone in the palm of their hand, it is now easier than ever to get your freak on.
Looking for a one-night-stand? Looking for a casual fling? Friends with benefits? Or maybe a romantic involvement? Forever love? You can find all of these, but not in the same place. You should really think what are you looking for and start from there. So long as it's not some shady Listcrawler escort, then you're good to go!
What made Craigslist Personal Ads special and such a massive success?
What the most loyal users liked about the Personal Ads was the anonymity that was almost guaranteed. And while we do use the internet for everything and anything, in most cases, we are ashamed to admit that we're also looking for a casual fling online. But not everything is as meek as you might think. There are some things you can do in order to find a casual date online and still have a semblance of anonymity.
And because the scammers are always on the prowl, there are many people that are reluctant to put a lot of their personal information on any type of website. And rightfully so. The Craigslist Personal Ads had an air of anonymity as the users were not asked to put in a photo, which is not the case with the other dating sites out there.
Consumers w/ Fetishes Loved It
The Personal Ads presented a safe environment for exploring kink, fetishes and more and were not subjected to judgment. People working in sensitive areas were able to explore a darker, kinkier side of themselves and do it safely, without being stigmatized by the environment. Just imagine what the repercussions would be to a pediatrician if people knew he was engaging in sexual kink? Or the elementary teacher that enjoys casual flings? The Personal Ads were the place to go for these people and made them feel safe to engage in deeper sexual fantasies.
LGBTQ Loved It Too
The Personal Ads presented a community for a lot of people. The LGBTQ users reported that they used this service and did not feel judged by anyone. A lot of married people also used Personal Ads as a way to explore extra-marital activities and engage in something they would not do with their spouse. Straight men trying gay sex, married women playing the seductress and a lot more, all behind the shroud of secrecy and anonymity provided by the Craigslist Personal Ads.
Why Craigslist Casual Encounters Takedown Happened
People may argue about the reasons behind taking the Personal Ads down, but the real reason was the FOSTA bill that fights online sex trafficking. The government's efforts for curbing the sex trafficking and lowering the rate of prostitution have resulted in the FOSTA bill, which then translates in closing down the Personal Ads on Craigslist.
The reasoning behind this decision is the following: according to the bill, any website that has services similar to the Personal Ads is held responsible for the increased number of prostitutes and the growth of sex trafficking. And not to stir up any trouble, Craigslist have simply decided to shut down this part of their portal. This is also done to protect the entire website, as any person using their service that should become a victim of sex trafficking can file a suit and hold the website responsible and accountable for enabling the person to be abused.
So not to complicate matters, Craigslist simply took the Personal Ads down. This left a lot of people with unsatisfied desires that they need to look elsewhere to fulfill.
Other Options
You can bitch, complain, and even mourn for a long time, but since there are no more Personal Ads, none of that is going to get you anywhere. However, you can join any other dating website out there and be back in business within a matter of seconds. Since not all dating sites out there offer the same services, you will need to carefully review each one of them until you find the best one to suit all your wants and needs.
Tinder – a replacement for Personal Ads…or not?
One will easily say that Tinder is the Next Craigslist Personal Ads, but we can't actually agree. Tinder is a nice dating app, but dating app nevertheless. People using Tinder need to put a lot of personal information and are presented with few opportunities.
People using Tinder tend to be more towards the relationship-seeking crowd and less towards looking for a simple hookup. And while there are many satisfied Tinder users, and I can't dispute its functionality and success, there are still some features that the Personal And on Craigslist offered that Tinder simply does not have.
Lucky Co App Might Work
Another very interesting online hookup app that has gained a lot of popularity in recent times is the Lucky app. It seems that they have seen what Tinder lacks in some aspects and what made the Personal Ads so successful and decided to incorporate all of these factors into one app – the Lucky app.
You can easily start using the app and swipe left or right once you get a suggested match. When you get a match, you get 24 hours to start up a conversation, or the match expires for good. Lucky is far more dynamic than Tinder and far more private and anonymous. You only need to enter a photo and gender and you can start looking for a match for some steamy fun between the sheets.
Happn, Grindr, Her, AdultFriendFinder, SeekingArrangement… an endless line of possibilities
If you did like the Craigslist.org ads, but are not really up to swiping left or right as they do on Tinder and Lucky, there are plenty of other alternative places you can visit and find a casual hookup online.
There is the new Happn mobile app, and they say that this is the place to find people you have already seen before. The app is rooted in a different premise, and while most other apps match according to the location, the Happn app matches you with people that you have seen throughout the day. So if you did not get the number from the really cool girl you saw at the store this morning, you have a great chance of finding her on Happn and get a second chance to hook up.
If you're a gay man, then Grindr is a popular mobile network for people to find gay sex matches. The Grindr app caters specifically to the trans, queer, the gay and the bisexual community. Once you enter the app and state your gender and preferences, you can look for your ideal sexual partner. And there is the Her app that caters specifically to the lesbian community.
AdultFriendFinder is another suggestion I'm going to put out there, as this is a network where people go to find adults for hooking up. Here people can find matches for threesomes, flings, one-night-stands and a lot more crazy, fun things you can imagine. If you're curious, then please read my AFF review to learn more!
Another dating/casual fling app is the SeekingArrangement app that is specifically for people that look for/want to be Sugar Daddies/Mommies and want to skip over the conventional search and get matched as fast and hassle-free as possible.
Conclusion: Avoid Craigslist Casuals & Copycats, Use Premium Sites Instead
People like and enjoy sex, and will do pretty much anything to get it on a regular basis. The Craigslist's Personal Ads was once the gold standard for finding a fling and doing it anonymously and safely, but unfortunately, it had to be shut down.
Instead, there are many other apps and online platforms that offer a vast sea of possibilities and enable you to hook up with a suitable person matched to your preferences. Take a look and give Tinder, Lucky, Happn, AdultFriendFinder, Grindr or any other app a try and if you try hard enough, you will certainly not be going to bed alone tonight.