I'll kick this review off by saying, in my opinion, hiring an escort is always wrong. I sincerely think that no one should pay a girl to have sex with him. It's completely unnecessary if you've got access to the right tools e.g. dating networks. Of course, the alternative to using Escort Babylon is to look for an available hookup partner elsewhere. But there are still people that select the "easy" way and go ahead and hire a nightwalker. This isn't something I suggest doing and I want that to be clear as crystal.
Now, one such place where people might head to in an attempt to hire an escort is the EscortBabylon.net website. This is an online directory where people can connect and hire escorts to have sex with them. Sounds simple and easy, right? Well, not so much, as this is a site filled with unpleasantries, which I have outlined in my review below.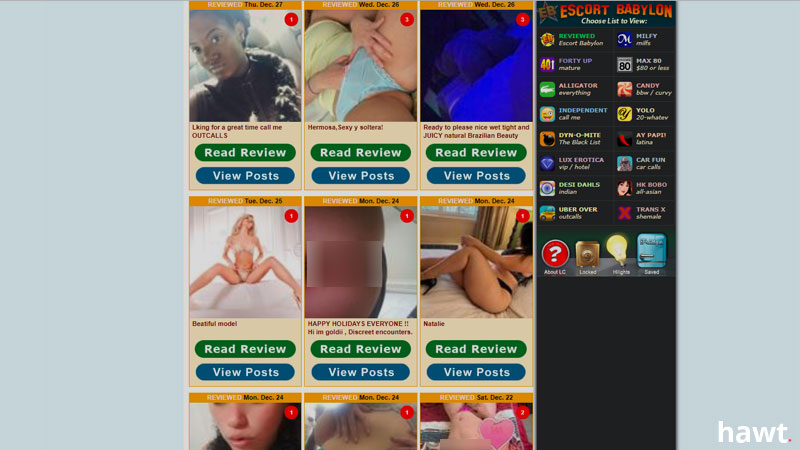 The Official Escort Babylon Site Review
By entering the address of the site in the search bar, you are in for an unpleasant surprise. The design is simple and the content seems pretty straightforward, at first that is. On second thought, there is some very fine print that almost everyone avoids or it too lazy to read.
However, I suggest you always read the fine print, as this is very important and it would not be there if it wasn't. My philosophy is quite simple. The smaller the print, the more important the material is to read. The landing page is straightforward. You must agree with their terms of use, and the fine print on Escort Babylon (that you would simply click through) says that they collect and store your personal data.
The site uses it in order to follow your activities and they will share your personal data with law enforcement agencies if it comes down to that. EscortBabylon.net will also use your personal information in market research purposes if needed and if they don't it doesn't matter, you've lost your rights upon joining. This is something that you should really be aware of next time you are tempted to hire an escort through Escort Babylon.
The Escort Ads
The listings on EscortBabylon are sordid. Many of the photos are the exact same as those posted on the OneBackpage site, so nothing new and spectacular, just a lot of escorts with shady as fuck backgrounds and a greater risk for danger. Man, some of them are not ugly, they're downright fugly!
Once you click on a listing, you are instantly redirected to another site, so this points to business with unsavory ethics – at least IMHO. There are contact numbers for most of the girls listed on the site, but the inherent risk of calling an unknown number that can turn into a potentially bad situation is better left alone.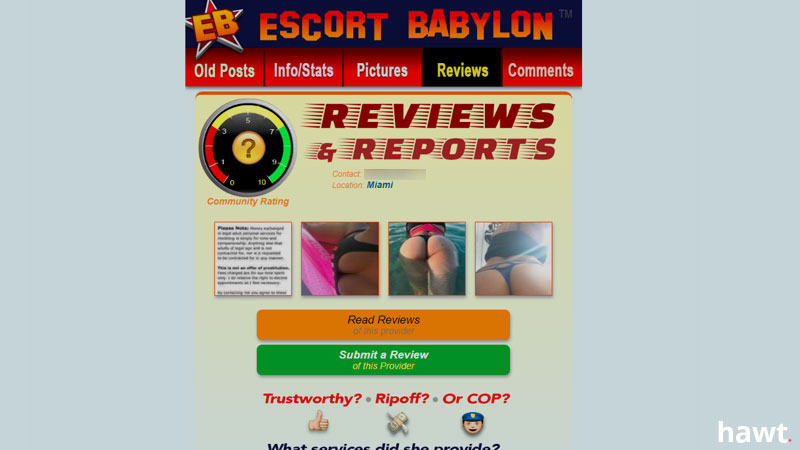 The Girls (A Risk)
As I said above, the listings are for girls that are seedy and unsafe-looking. The site offers no guarantees about the safety and health of the girls. I should not be pointing out the risks involved, as you may end up robbed, and contract an STD in the process. Talk about testing your luck. You've gotta have balls to really give this the old college try.
Anytime you click on any link, you get redirected to another page. Typically, this is an equally bad site that lures you with the promise of viewing "Live cams" and even the promise of being able to "Fuck Now." I can't stress enough that you should not visit sites like these and acquire the services of the girls listed here.
Conclusion: EscortBabylon.net Is Awful, Stay Away
If you haven't gotten the point, here it is again – DON'T use sites like Escort Babylon. The prices that some of the girls listed here can go up in the four-digit range, but the risk is multiplied. The site offers no protection about its users and offers no guarantees.
They collect your user data and store them, telling you that they can use them as they please. You will not risk getting in trouble with pimps, with having your name on some law enforcement agency list of people that are paying for sex, because prostitution is still illegal in the USA.
This is a site where you will get nothing beneficial, and if you are after a simple hook-up or a one night stand, then you are far better off in joining a sex dating site where you can easily hook up without having to pay for it. Trust me, these sites work, you just need to find the right one for you. The list below is a top 3 list of those which I suggest trying.