I've been spending lots of time sniffing around forums and message boards only to find out most of them truly suck. There are a lot of mouthbreathers out there that think they know everything about sex and where to find girls, but the truth is, they haven't got a damn clue! One of the message boards I've been studying is called the TNA Board. I hate it and can't stand what they are up to.
Whatever you do, don't spend even a second of your time using the site without reading this blog post. Trust me, it's worth your time to read this.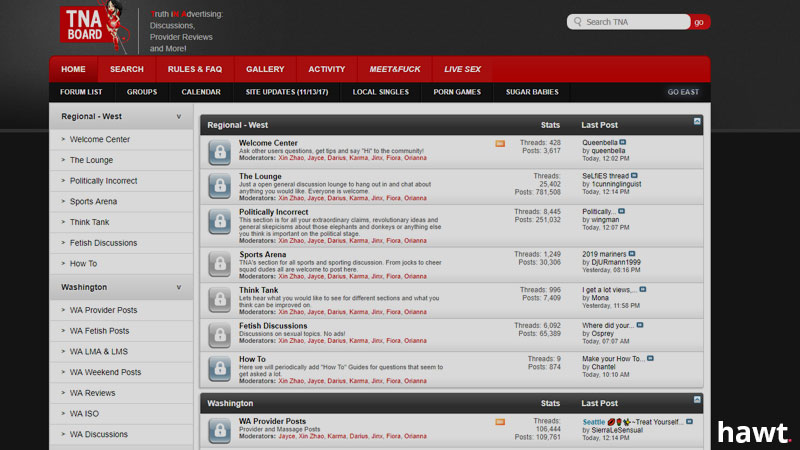 What Is The TNA Board?
Fair question – this is a public board where people can share reviews on girls providing sex. Well, not exactly giving it away, but providing it for a fee. These are actually called escorts, or more plainly – flat out hookers.
If you follow my updates here on my Hawt site, you can see that I don't like hiring hookers or paying for sex in any way whatsoever. So, any site that offers to review escorts, and there are plenty of those, I urge people to avoid. And here I will tell you why you should avoid using the TNABoard.com.
The Tnaboard.com Website
This is basically a listing of all the escorts near you. If you think that this is a good thing, think again. The sites that offer such services have a deeper, hidden agenda behind the scenes.
First, you will have to pay a membership fee to use the site. All right, you will pay the fee. But did you know that once you enter your personal information, they will keep it in a database somewhere and share your information with third parties, and even the police?
Whatever you put on the site, stays there forever. Maybe you've made a comment about something that has been gotten the wrong way? It will be stored for posterity, or in this case for the police to build a case against you for solicitation.
The site has some very convenient Terms of Service, for them that is. They are not liable for anything that will go wrong between you and the site, or between you and an ad you've clicked, or a hooker you've hired.
Your Account Is Forever (And Ever)
Just like the Hotel California lyrics, you can check out, but you can never leave. So, once you are not there, you are on there. Your account will become inactive, but will most likely never be deleted. Also, the site jokes about using your real name and clearly informs you that your posts are the property of the forum and will not be deleted.
You will need to be very, very persistent to have a chance of having the account deleted and completely removed from the site.
The Girls e.g. Hookers
Some of the girls listed here are nice to look at, but there is no way of proving if they are the real deal or just a bunch of fake profiles. And the ones you think are real are not as hot or pretty. They look like plain old hookers (I know that's what they are), but many are just plain and unattractive.
No one tells you about their health and what happens if you happen to catch a nasty STD. It is a job hazard, having sex with a lot of men, the real chance of catching an STD is increasing exponentially.
There are not as many users as the site claims there are. You can notice that less than one thousand people use it at any time. So not many options to choose from.
Annoying Ads Everywhere
The site is flooded with ads for Live Sex, Sex Cams, Meet&Fuck and more cheesy, flashy ads that do nothing good but lead you to external links that are for equally bad sites.
The ads are everywhere you click. On any page, link or listing, you will see an ad about something related to sex and the TNABoard.com offer. I strongly suggest you never click on any ad you see here.
The Verdict: Stay Far Away
TNABoard.com is just another site in a long list of sites never worth visiting or hiring their services. This is a place where the escorts are not as good, the ads are annoying and the site is trolling and recording your every move. A definite no for me. Just to mention, prostitution is illegal, and so is paying for sex. So if the site goes down, you and the hooker you've hired will share a ride to the county jail.
If you want to take your chance then go right ahead. If not, then perhaps you should think about spending some time on this website here. It will 100% help you get laid – no doubt about it!