The motto of this site is "Fuqer, not a Lover", and with a motto like this, no one can mistake the theme or the content they are about to find here. Yes, you are guessing correct: the content here is all about amateur porn, and on top of everything, access to this content is free.
This feature is what has made Fuqer.com a very popular choice for amateur porn lovers across the globe, and the site continues to bring more and more fresh content for its fans daily. Here we'll take a closer look at everything Fuqer.com has to offer, and we'll also offer you some alternative sites on the off chance that this site does not meet your expectations.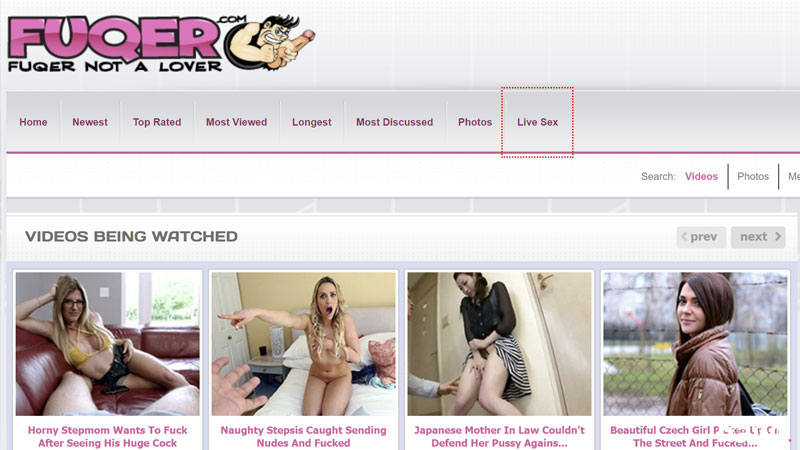 What can you expect to find on Fuqer.com?
When you enter the address in the search bar, you will be taken to the actual Fuqer.com website, where an interesting homepage will welcome you, showing you right from the start what you can expect to find here.
The background is simple white, without any pomp or fancy stuff. There is a grayish-pink theme incorporated throughout the site. The text is pink, and stands out nicely, making it easy to read the menus and the titles of the videos. New content gets uploaded daily and often several times a day. You know what this means, right? Every time you log into Fuqer.com, you will see new uploads with a sexiness all over them.
The top of the page offers a display of the videos watched right now, below them is a listing of free porn videos for real fuckers, which is how the site developers have named their main category. In the last section, there is a display of the photo galleries uploaded by the members.
The site is optimized for mobile use, and you can access it from every platform. The owners have written their main goals on the bottom of the homepage. From there, we understand that Fuqer.com offers free porn content because they were once like us and did not want to pay for porn. They make money from their sponsors and keep the content free all this way.
The main menu has easy access to the newest content, top-rated content, most viewed, longest, and most discussed, a quick link to the photos section, and a link to the live sex option. The live sex option is a link to the live chat and cam section where you can chat with sexy girls, and if the price is right, watch them do dirty stuff to their pussies.
The site has good search functions. You can search by directory through the videos, photos, and members. The search filters are nicely organized, and you can search by name of a model or any other thing you may think of at the moment.
Great collection of amateur porn
The categories displayed on Fuqer.com are organized per the preferences of the majority of users. There are plenty to select from, and most of the good ones are a proper length that can inspire your imagination.
Since the videos here are amateur, you may expect to find low-quality and mobile phone camera quality and very poor lighting. But surprisingly, the majority of these are shot in nice quality, with some being shot in HD quality with excellent light to showcase the sexy action in great detail.
The free use of the site is for watching the content only. So if you wish to download a video, you need to sign up as a member of the site. But this is not the only perk that you get by becoming a member. You can also make lists of favorite videos, and see more details about the people who made and uploaded a particular video.
The overall navigation of the site is smooth, making it easy for everyone to find their way across the site. If you are searching for something more particular and are unable to find it immediately, you can scroll through the pages and browse the offerings, and I'm sure you'll find what you are looking for soon.
Why Try Fuqer.com?
While the site will not dazzle you with some super modern design, the real appeal is the thousands, and we mean thousands of porn videos from confirmed amateurs. Here we heed to outline the intuitive navigation, which makes it easy for everyone to navigate and find what they are after.
The section with new uploads is by far the most popular part of the site, as this gets daily uploads with homemade and amateur porn videos from people with exhibitionist streaks in them. Plus, there are plenty of videos from people having one-night-stands, which is so hot to watch.
Since the members of the site can rate and leave a comment on videos, there is a section with top-rated videos and this part has plenty of videos with gorgeous ladies doing very dirty, sexy stuff. There are many couple sex videos, with several other types of porn interspersed through the offering.
The section offering the most-watched videos is obvious, right? It offers videos that have gained the most popular and most views, as these are above the competition with sexiness and appeal. It holds a variety of videos from all the categories, so expect to see some incredible solo action, sexy lesbians, and even MILFs teaching their stepsons what a good fuck is.
Other specialties await you here, like the longest videos, where people have sex for over an hour and a half. The talk of the town section is where members can talk about the videos, post comments on images, and read other people's comments. The image galleries are incredible, as there are thousands of sexy images of girls sucking cock, playing with toys, and displaying their sexy assets for our perusal.
The live sex cam link takes you to the Royal WebCams page. Here you can see a lot of sexy girls that are ready and eager to talk to you and show you what they can do to their titties and pussies. There are girls from all over the world, so you can enjoy a lot of variety. This site offers search filters that can help you better hone in on your preferred model.
Pros and cons of Fuqer.com
Pros:
An excellent offering of amateur porn videos
A large collection of sexy images
Free for all basic offerings
Focus on vanilla amateur porn
Extra features for members
Plenty of high-quality videos
A lot of long videos, some close to 100 minutes
Cons:
Downloads only available to members
Ads and pop-ups can be annoying
My Alternative Sites
Now that we've covered the basic things that outline Fuqer.com and you know what you can expect, we'll tell you about several other websites that cater to similar content. Just so you can have access to a good variety and have options when it comes to amateur porn.
NewbieNudes
This is an amateur porn network that has a lot to offer to amateur porn fans. This place has a great design with easy navigation and has a great selection of porn clips. Everyone is welcomed to browse the content and watch any videos that hold your appeal. NewbieNudes offers its visitors good search filters so they can easily find the type of video that will keep their blood pumping.
Pros
A good offering of amateur porn videos
Simple and easy registration
Good quality videos
Nice search filters
Users can upload content
Cons
Download not available
Premium options only for paying members
TrueAmateurs
As the name suggests, this site is a place where fans can find plenty of videos featuring amateur porn stars and homemade porn videos. The user interface is great, with intuitive navigation and a good outline of categories. It gets regular updates with fresh content to keep fans coming back for more and more sexy content.
Pros
Regular updates
Simple navigation and user-friendly interface
More and more videos are HD quality
A lot of sexy models
Cons
Content is not free to watch
Limited info on the models
HomeMoviesTube
As the name of this site suggests, people use it to upload their home movies, but instead of funny accidents, the movies here have far dirtier content. The interface is good, navigation is easy, and the content is regularly updated. If you are into homemade movies and don't like the scripted professional porn clips, then HomeMoviesTube is the place to check out.
Pros
Regular updates
Great selection of categories
Confirmed amateurs
Excellent selection of homemade porn clips
Cons
High-quality videos available to paying members
A lot of ads and pop-ups
CamSoda
A site dedicated to amateur porn videos and live cam clips, CamSoda has gained a good fan base. Heaven for voyeurs, CamSoda has a global following and all the users can post content. The basic features on CamSoda are free, but paying members have access to extra features that make it worth the extra cash for this option.
Pros
Good interface and easy navigation
All profiles are verified with ID verification
Very sexy girls
Most content is free for all
Cons
Plenty of ads and promo materials
Advanced features only for paying members
HotScope
This is among the most popular sites for amateur porn as it has an excellent offering with plenty of sexy ladies doing dirty stuff. The interface is modern and it gets regular updates with more amateur videos making HotScope among the best sites for watching amateurs have sex or play with sex toys. Among the amateur content, there is a lot of content from live sex cams, making HotScope a very enticing option.
Pros
Large selection of videos
Many beautiful ladies in one place
Snapchat clips available here
Easy to navigate interface
Cons
Extra features only for paying members
No downloading content
Nudez
Nudez offers a large selection of amateur porn videos and along with excellent search options. The categories offered here include hardcore sex, public sex, softcore erotic content, and a lot of other types of porn. The site's basic offering is free to use, the only requirement is to make a user profile. But paying members have better options and can enjoy amateur porn in the best of lights.
Pros
The basic offer is free for all
Plenty of categories to choose from
Simple and easy to navigate
Thousands of videos and growing
Cons
Ads are all over the place
Paying members get extra features
YourAmateurPorn
A site that has a long history of producing and hosting amateur porn videos, YourAmateurPorn.com is a favored online place by voyeurs. The site is nicely designed, albeit with a tacky theme, but the navigation is simple and intuitive. It requires users to register and pay for a membership, but this is pretty affordable, to begin with, and the sexy content you find here makes it worth it.
Pros
Large selection of videos
Confirmed amateur porn
Regular updates
Good selection of categories
Cons
Most videos are not high-quality
Some of the clips are very short
CamWhores
The name suggests that you can find sexy content and the best part: these are all amateur sex videos and images. The site has a simple design, easy navigation, and excellent organization of the videos in proper categories. But by becoming a member, you can make your own categories, select favorite videos, and a lot more perks. Also, you can share these with other members and spread the word on the amazing sexy videos you've found.
Pros
Quality webcam content
Great offering of beautiful models
Sexy content and amazing categories
Mobile-friendly site
Cons
Perks only for paying member
Limited quality videos for free users
MyLust
This is a platform that offers only amateur sex videos and nothing more. The main themes of the videos found on MyLust are solo action, group sex, and couples making home videos. The site has easy navigation and a simple, yet effective design making it easy for the users to find what they are after. The great thing about MyLust is that the content is free for all, and you can sit back and watch some of the best amateur action online.
Pros
Free for all users
Good selection of models
Amateur content
Easy navigation and good categorization
Cons
A small number of videos are in high-quality
The download is not permitted
Terk
Terk is an online place where people can post their amateur porn videos. The content is divided into categories and the selection is excellent, as are the search filters and browsing experience. Terk is also getting regular updates, but the best things are saved only for the paying members. Anyway, you can check this site out, as you'll be amazed by what you find in terms of beautiful ladies doing sexy stuff.
Pros
Part of the content is free
Simple and easy navigation
Regular updates
Sexy models and wild action
Cons
Limited categories
No info on the girls in the videos
The Bottom Line
Fuqer.com is an online site that works in one type of porn – amateur porn. This is a heaven for all the voyeurs and fans of amateur porn, as there is an innocence and erotic appeal that draws users to this type of content.
The non-scripted and non-professional approach is a turn-on for many people, which is why sites like Fuqer.com and similar ones are quite so popular.
All in all, Fuqer.com lives up to the expectations of plenty of fans, as they offer amazing content focused on amateur porn videos. This, along with the simple, yet easy to use design make it a good option for everyone looking to fuel their imagination with sexy images and clips from real people doing dirty stuff.
But on top of this, we have also shared a list of sites that offer similar content – amateur porn and webcam videos that have a healthy dose of sexiness.
There are paid membership sites and free sites, and you can check all of these and see if there is anything you like. And remember that whichever you select will most certainly drive your urges and inspire pleasures and explosive orgasms.
Other Free Porn Sites To Check Out