No sugar coating things This is all about VPorn aka Pornone and what you need to know about the site. Please read it before using the website. If you're looking for facts, then this is where you'll find them. With so many different porn websites out there (and more popping up every day), you'd think it would be pretty easy to find a handful of solid sites with great content – and gorgeous girls – to check out whenever you were feeling frisky.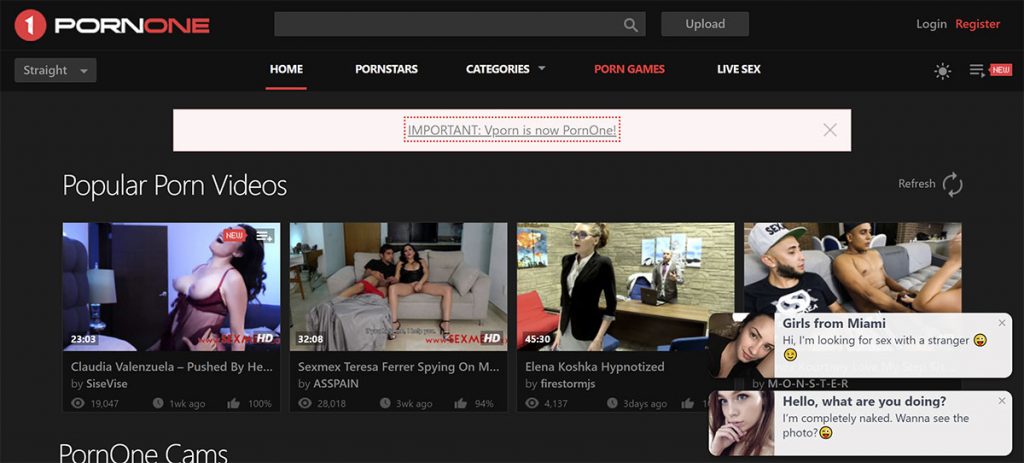 Vporn Review Facts (Recently Changed To PornOne)
Unfortunately, as I've discovered firsthand, most porn websites are lacking in content, have low-quality videos, or are obvious scams filled top to bottom with pop-ups and all kinds of other malware issues looking to hijack your computer ASAP.
Luckily, though, VPorn doesn't fall under that umbrella.
Far and away one of the best porn platforms on the planet right now (and my personal favorite), the experience at VPorn is so solid that I have much stop going to any other site out there and stick to this one exclusively.
Check out why I've fallen so hard for this platform in my VPorn review below!
User Interface
To start things off, the user interface on VPorn has to be the cleanest, easiest to use, and simplest to navigate that I have come across in the world porn.
Don't giving wrong, other sites definitely do a halfway decent job when it comes to building a useful user interface. But a lot of sites really get this wrong, figuring people will jump through all kinds of hoops just to get some decent porn content.
Truth be told, a lot of those poorly designed and horribly optimized sites aren't wrong. If the content is good enough, most of us will put up with pretty much any user interface issues just to "check out the goods".
VPorn doesn't make you choose between a great experience and great content, though.
I dig a little deeper into the kind of videos and content you'll find on VPorn in a second (spoiler alert – it's all top-tier), but the user interface, ease of navigation, and tools designed to help you find new favorite videos are all really well implemented here.
The Porn Library
Even though at the library on this porn platform isn't anywhere near as big as some of the other huge catalogs out there, it's definitely not a barren wasteland – not by any stretch of the imagination.
A lot of content from some of the "big dogs" in the world porn production houses (like Mofos, Reality Kings, and True Amateurs) post of their stuff here – all of it in stunning high definition (including some 4K videos).
Porn covering every hot category and genre is represented here, with new videos being added on a daily basis.
Best of all, even though a handful of short clips are uploaded regularly to the VPorn platform there's also lots of long videos uploaded as well. That includes some videos that are 2+ hours long, real marathon sessions making up some of the best porn you've ever watched!
At the end of the day, the library is halfway decent sized as it is right now and getting larger all the time.
I know that every time I come back in jump on this platform there are more brand-new videos uploaded than the last time I was on.
Video Quality
Video quality is also off the charts when it comes to the content you'll find on this platform.
A lot of porn sites promise full HD across the board, knowing full well that the overwhelming majority of their content is going to be 480p (if that) – with a lot of standard definition stuff being marked down as HD no matter what.
This is the kind of bait and switch thing you can expect from the majority of porn platforms out there on the market right now, but it isn't ever going to be a problem you'll have to worry about with VPorn.
No, the stuff you find here is always (ALWAYS) going to be HD at a bare minimum – with some UHD and even 4K stuff available to stream as well.
You'll obviously need some pretty decent internet speeds to check out the UHD and 4K streaming stuff from VPorn without any hiccups.
As long as your broadband connection is even just reasonable you'll be able to cruise through these clips and longer videos without much trouble at all.
I know I have a plan that offers decent speed (not the fastest, but enough for Netflix to work perfectly) and I've never had a problem with streaming or with buffering some of the higher quality videos from this site.
It's also important to know that since the majority of the content here comes from legitimate porn production houses (and no amateur stuff) you aren't going to have to worry about weirdo camera angles, bad edits, or other problems that plague some of the "DIY" porn community uploads.
Instead everything is well lit, the models are absolutely gorgeous (and definitely into the task at hand), and everything just sort of feels polished and professional – even if the action itself is on the wilder side of things at times.
You're going to like the video quality pumping out of VPorn, that's for sure!
Pros
Super high quality content, with some of the biggest and best new names in the porn world
Regularly uploaded content, growing a library to compete with other "big dogs" industry
Easy to navigate interface to find exactly what you are looking for
Longer clips and videos (some 120 minutes long or longer)
Cons
Content library is growing but is still a little smaller than some of the other sites
No amateur content whatsoever (as of right now)
Final Verdict
All in all, there are maybe two or three different sites that I check out when I'm feeling a little frisky and want to get into some online porn – and VPorn is definitely at the top of that list. At least when it come to free sites, this makes the cut.
Far and away one of the best online porn experiences I have ever had, the quality and caliber of the videos that you'll find on this site is just second to none.
Now, with that being said, you will NOT find the quality that you will on Brazzers or Realitykings (check out this RK ad called OMG My New Step Mom Caught Me) or even Mylf as a paid member.