The topic I'm about to cover today is quite serious and something that guys have trouble with on a daily basis. In fact, millions of American men seek professional help for this each year. If you're actively dating or trying to hook up with girls weekly, then you might have this issue. The good news is that they've got options and one of those options is none other than Blue Chew.
Men usually have trouble speaking or even conceiving a thought about the possibility that there can be a problem with their "best friend." Yeah, I'm using cheesy metaphors, but I'll try to remain as close as possible to the problem in hand.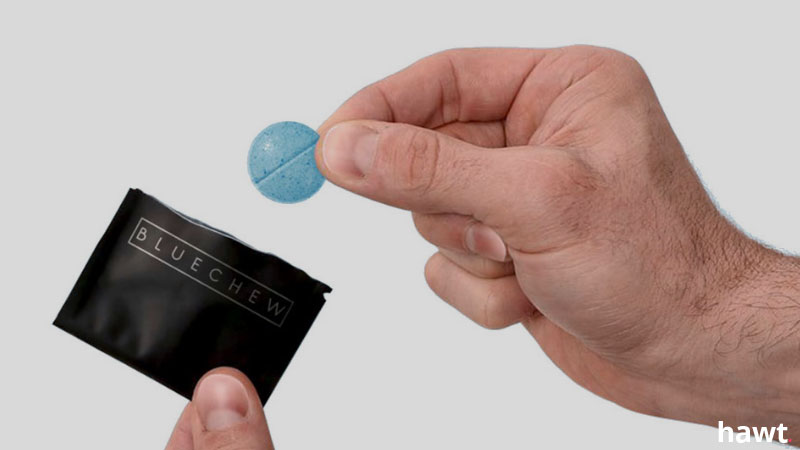 Rarely would a guy admit to having trouble "down there," and unfortunately, it is a more common thought that one may imagine. That is why there are things like enhancers, helping fix the problem. But another problem arises here, and that is who can you trust? With the varied offer on the market, one may wonder which one works and which is only a bitter pill that leaves nothing but a bad taste in the mouth and not much else.
Some work better than others, as many can attest. I've tried many, and from my experience, not many deserve to be endorsed or even on the market. There are those that actually deserve even bigger praise, such as the BlueChew male enhancement pills.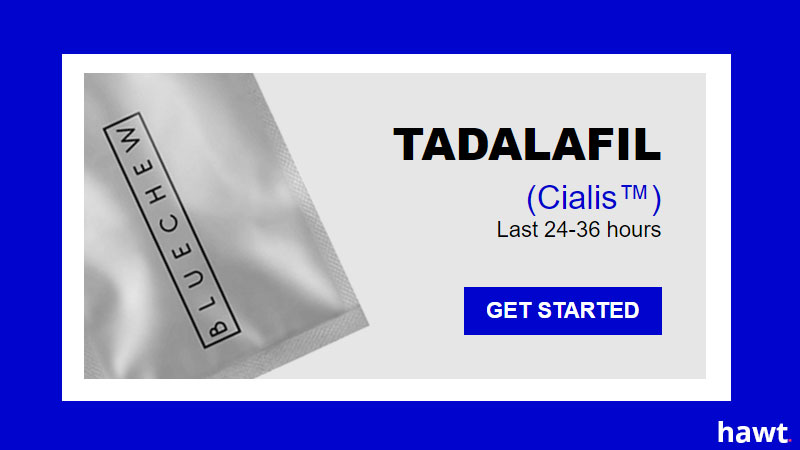 BlueChew Overview
This product is a chewable tablet that helps fix erectile dysfunction, and is taken the same as a candy – put it in your mouth, chew and swallow. This delivery method increases the absorption of the active ingredients in the tablet, and let's face it, it is tasty.
The BlueChew is a product by a certain Dr. Alex Jovanovich, MD. Rest assured, he is not a charlatan, but is accredited medical doctor in the field of Family Medicine, and is working at the University of Chicago, his alma mater, where he collaborates with world-class experts and treats patients regularly.
Is Blue Chew Safe?
I'm not a doctor, but based on the research I've done, yes, it absolutely is safe to use. The BlueChew pills have been formulated to contain a blend of ingredients, all GMO-free and sourced only from within the USA (also supporting local economy) and made with strict care about safety and effectiveness.
The main active ingredient in the BlueChew pill is Sildenafil. Yes, this is the main active ingredient in Viagra and acts on increasing the blood flow and muscle expansion in the penis. People have reported having an erection up to 4-6 hours.
The Sildenafil comes in 25mg chewable tablets, should be taken 30 minutes before sex and not combined with fatty foods.
It also contains Tadalafil, the main active ingredient in Cialis, acting on lowering blood pressure while also increasing heart rate during arousal. Relaxing the prostate and the bladder, it helps to maintain an erection that can last up to 46 hours.
Tadalafil comes in 2.5mg chewable tablets and should be taken on an empty stomach, about 30 minutes before sex.
NOTE: Do NOT combine these two, as you are looking at having serious problems if you do!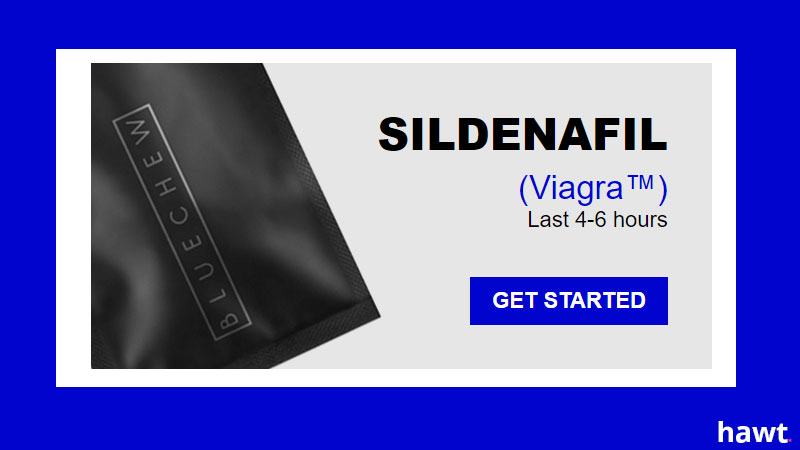 Possible Issues and Side-Effects
To get these, you will need a doctor's prescription, which can be obtained online on the BlueChew.com website from certified doctors from several well-respected clinics like the Mayo Clinic, the American Medical Association, University of Chicago Hospitals and Northwestern Medicine. You only need to upload your charts and will receive your results within two days.
If you have serious health issues or don't have erectile dysfunction, then you should not take BlueChew. Avoid it if you take nitrates or ritonavir, have allergies, or have a history of drug or alcohol abuse.
Some side effects can occur, and you should be aware of these. The possible side effects of Sildenafil include nasal congestion, pain in the back or muscles, headache, dizziness and blurry vision, upset stomach and diarrhea, hot flashes, and ringing in ears.
The possible side effects from Tadalafil are coughing, nauseated feel, pain in muscles, arms and legs, stomachache, indigestion, low blood pressure, flushing, throat soreness, and prolonged erection (more than four hours).
If you take BlueChew and experience serious issues like heart problems, fainting, persistent ringing in ears, shortness of breath, lightheadedness, swelling in feet and hands, prolonged pain, or an erection more than four hours, then you should call your doctor immediately and explain what you've taken to take the best counteractive measures.
Still, the side effects are not a common occurrence and depend on the health status of the person taking them
Pros and Cons
Just like any other product out there, the BlueChew tablets have their pros and cons which I'll outline here.
Pros:
Discreet packaging via mail
Affordable prices
Pleasant taste
Long-lasting erection
Legitimate MD-prescribed treatment plan
Improved performance
Your lady's satisfaction
Cons:
Many possible side effects
Subscription plan necessary
No natural ingredients
Subscribe to The Service
The BlueChew tablets are sent via mail, in a discrete package. Don't worry about your nosy neighbor going through your mail, as these are nicely packed, with little information on the package. They are sent via standard USPS mail, and you get a tracking number to ensure you are getting the product you've ordered.
In the off chance of your order getting lost in the mail, BlueChew will send you a replacement. In the case of customer complaints and unsatisfied expectations, there is a 30-day return option with a full refund.
Everyone is eligible for a one-time risk-free trial. This is possible with promo codes and coupons for the BlueChew products, that allow one month free supply of BlueChew.
Ordering Online
The only place that sells BlueChew is their official company website BlueChew.com. There are some legal ramifications related to using such products in some parts of the USA, and unfortunately, BlueChew is not available in Arkansas, Delaware, Hawaii, Idaho, Louisiana, Maryland, Mississippi, New Hampshire, New Jersey, Oklahoma, Oregon, South Carolina, and West Virginia.
If you happen to live in California, Florida, Georgia, Illinois, New York, North Carolina, Michigan, Ohio, and Virginia, there can be still some issues with obtaining BlueChew.
The BlueChew people are meticulously working on bringing BlueChew all across the USA, for all men to enjoy.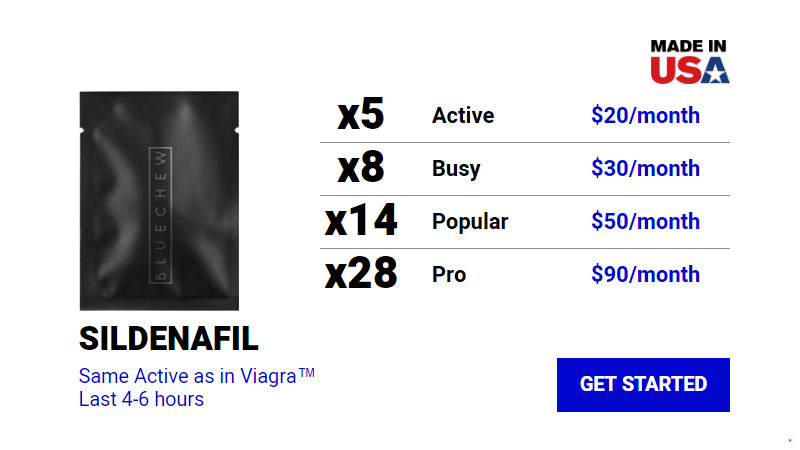 Pricing and Purchasing Options
The BlueChew tablets are only available via their official website. After you get your prescription plan from the certified doctors via the website, you will be offered the best treatment plan in accordance with the prescription.
There are three options: active, busy and popular. The Active plan will cost you $20 a month and includes one month's supply of Sildenafil (25mg) or Tadalafil (2.5mg).
The Busy plan costs $30 a month and contains eight Sildenafil (25mg) or five Tadalafil (2.5mg). the Popular plan is $50 a month and includes thirteen Sildenafil (25mg) and eight Tadalafil (2.5mg)
Even though these are not covered by any medical insurance plan, they are still very fairly priced and will set you back a lot less than any similar product. So, if you are suffering from erectile dysfunction, you can contact BlueChew and see what all the fuss is about. Yay for your lady.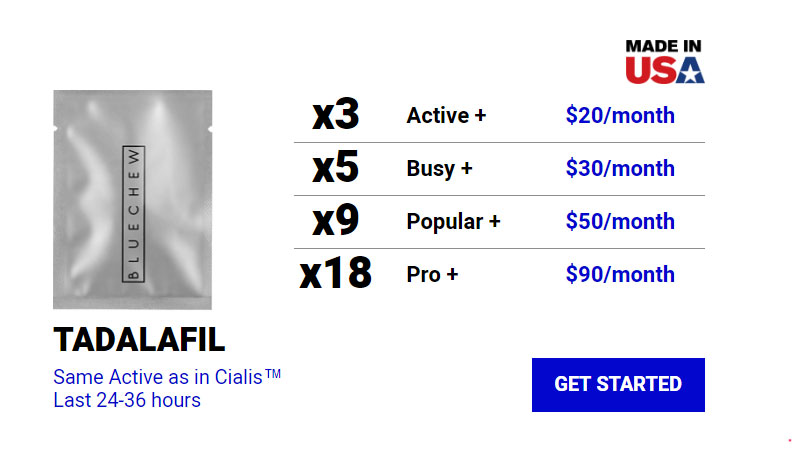 Video
You might want to watch this video to learn more about the product:
Simple Questions I Get Asked Frequently
Yes, people email me asking questions about this brand. Here are the answers to the questions that you might have.
Why did you write this Bluechew review?
Simple, I write reviews on products, dating sites and chat services. That's literally ALL I do and I'm a professional at it all. You're very welcome.
Is Bluechew legit?
No, it's completely fake! Seriously??? Of course, it's real. The only reason it's available is due to some patent laws which give the company the right to sell it today. It works and the chewable ED pills work.
Do you have a promo code?
Yes, I can get you a Bluechew promo code no problem. In fact, just click here to apply the discount.
What about the reviews on Reddit?
What about them? There are Bluechew reviews on Reddit as well if you're not convinced with what I've got to share here.
Conclusion
I'll let you come to your own conclusion about this product. However, if I were you and I was having some ED issues, the first thing that I might try is this product. The choice is ultimately yours though.