Japan is not a very big country, but boy, do they have many pervs there! These folks know what good pornography is, and even when this shit is censored, it's still fucking yummy! Hotties from the East might be prudes in life, but once their clothes hit the floor, they forget about all the manners!
They slurp dicks like noodles, and when their hairy twats get penetrated, they squirt and scream as no one can hear them! So, from this very overture of my review, you can see it's going to be a delicious text about Japanese porn. More precisely, a site called PopJAV!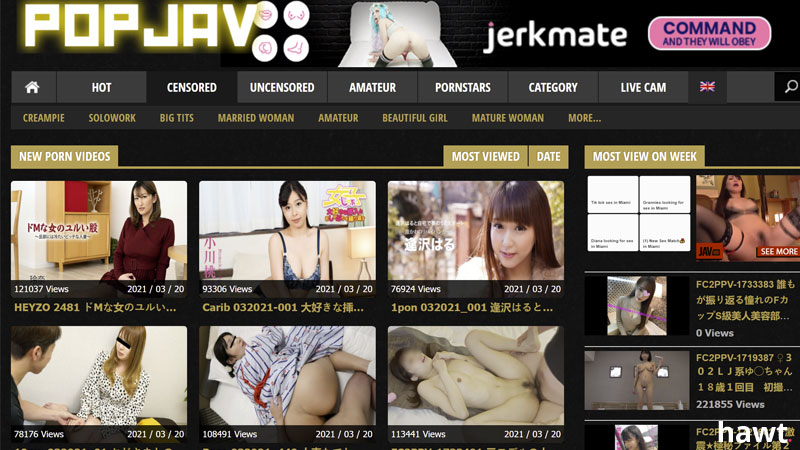 I have a friend who teaches Japanese students English. She says their women are not that shy and modest, even though we might expect it, when we see how much their porn is censored. Why would they hide their private parts so much, if their women are not even timid?
On the contrary, they are confident, powerful, bitchy, and badass! This is what makes them even sexier to me! Everyone likes a babe with an attitude, especially when she is exotic and looks delicious!
What do you get if you visit PopJAV?
So, who doesn't want to see naked ladies from Japan, as their cunts are getting drilled with hairy throbbing boners? This is pure magic! It's what you will get if you check out PopJAV. This is a site where you have porn with Japanese couples, and it's a gargantuan collection of smut to enjoy. Like I said, they have so many perferts there, and all of them are featured on this site. Is there a site with more Japanese porn? I don't fucking think so!
You know how most Japanese and Asian sites in general are filled with censored content? What's the point of a fuck flick if you hide all the goodies from me?! I want to see these fuck holes getting stuffed with fat dicks! No fucking mosaic parts, just lots of pubes and cock veins!
While this might not sound too enticing, it actually is far better than seeing these blurred pussies and tits. If they don't want these things to be revealed, why do they even fuck for the camera?! I will never understand it.
But PopJAV is a surprise. Here you have both censored, and uncensored smut. Wait, what?! What the fuck?! Why? But who cares? As long as they treat us with pussies and dicks that aren't blurred, it's fine with me! So, my favorite advantage of this site is that they have uncensored smut.
A downside of this site is that they also have censored shit. But I will talk about pros and cons later throughout the review. Here's what you should know now – PopJAV is a site that is not old, but it is also not that new anymore. This means they had plenty of time to gather all the smutty content they have at this moment. And that is a lot!
The Japanese content is fucking phenomenal!
This site is a hot shit, and I don't even know where they find so many great pornos! But these pornos is what attracts them 10 million of visitors every freaking month! Come on, this pretty much reviews the site itself! You already know this fucker is huge and juicy, otherwise there wouldn't be so many fappers glued to this place! The content is definitely what sells the place, that's for sure!
And what can you expect to see? I would say all the basics are here – blowjobs, pussy eating, rough fucking, deepthroat moments, hair pulling, moaning, bending babes over to take them doggy style, squirting, feet licking… You know how porn sites look like. You know what you can find there. This place is not different! Sure, this is only Japanese porn, and you can't expect to find Latina sex bombs and ebony stunners here, but you have a shitload of Asian cuties with tiny waists and luscious tits and ass cheeks!
Do you know why Asian sites are so tempting? Some will tell you because the hotties from the East are simply irresistible. They are petite and innocent-looking, especially in schoolgirl and cosplay outfits. But here's the real truth – these bitches bathe in blood to stay young forever! They kill sheep or whatever, sacrifice young virgins… I don't fucking know, but all I know is that their milfs look like fucking teens! And who wouldn't want to jerk off to a lady who looks like she is 18 fucking years old, even when she is actually 45?! That's some weird shit here! I don't know what makes these women so youthful. Perhaps penis facials? I heard jizz was actually very healthy, and I do know Asian sluts are kinkier than we know! They swallow cum like it's nothing!
Goodies and crappy features… or lack of some!
When you visit PopJAV, here's what you'll see: luscious lusty bimbos are spreading their legs across the main page, in thumbnails that are put here to allure you. You will see the newest uploads, the upload dates, the number of views, and of course, there are titles crafted to grab your attention! The beauty of this site is that every fucking day, they upload dozens of new pornos! Is this cool, or what? I don't care if every single person from Japan is a fucking pussy addict, all I care is that they fuck so much the site has many new flicks every day!
Here's what I don't dig about this platform, though – fucking previews! Well, actually, the lack of them. You know how many smut sites have animated thumbnails, so when you hover over an image you like, it starts moving so you see the best and steamiest parts of the porno? Here, you have fucking poop! Nada! Rien! Nichts! I am not a fucking psychic, my extrasensory perception is not out of this world, I can't predict what the hottest parts are if they don't give me previews! And come on, it's 2021! What site doesn't have previews?!
Now, the spam issue… This shit is intense here! It can't be avoided even if you just visit the site for a second, really. Before you even click on anything, you will be bombarded with at least 10 fucking ads! What's absurd is that even when you click on the fucking background (you don't even click on a thumbnail!) a pop-up will slap you in the face!
Then, there's piracy… It's obvious the shit here is not exclusive and original, but it's too fucking good! It's my duty to inform you about it, but you be the judge of what you want to watch after reading my review. The flicks here are DVDs from various sites, which I have nothing against if you don't. Porn is porn. We download movies for free all the time, no? This shouldn't be that big of an issue. But if you are a prude who disapproves of it, you should head to other sites.
Lastly, I must complain about their dead links. It's an issue here. It's not as annoying as the spammy content, but it's still something that makes the site less perfect.
Japanese perversion comes in different categories!
That the Japanese is a depraved nation you can see on this site. But a hot thing about it is that you have loads of categories and tags to experiment with here! First of all, they have three sections you will like all – amateurs, pornstars and even VR porn! Before you even explore the site further, this is already a lot! If they offer everything from amateur sluts to VR bimbos, that's fucking awesome! You know VR porn is the future of this industry, so having it here is something you will probably feel happy about.
Also, the navigation of this site is very cooperative. The user-friendly tools will guide you, tell you exactly what to do and you won't even notice yourself sliding through the site. Everything that you need to find is here, easy to spot. You will see all the categories and tags, and they will specify your searches. This site has more tags than categories – rape, bukkake, sailor uniform, etc.
The Pros
an exceptionally large library
the navigation is great!
very frequent updates
the abundance of categories and tags
The Cons
there are dead links here!
some shit here is censored
a piracy problem?
a little fucker called spam
Conclusion: Final thoughts on PopJav
But all in all, even though I both praised and complained about the site, PopJAV is fucking amazing! They have a little bit of something for every Japanese porn lover here. The site is great and it has cool features, not to mention the pornos are delicious! I do want to see hotties from the East swallowing jizz and things like that, and I can easily find it here. With such a huge collection, it's impossible not to find whatever you come up with. Hats off to the number of visitors as well – now that's traffic!
Premium Asian Porn Sites I Like…
Little Asians
Asian Movie Pass
Happy Tugs