Reading a good story can be fun and enlightening. A steamy story can and will awaken your imagination and spark a sexy vibe inside of you. If you are feeling carnal feelings, then reading an erotic story can only add to your sexual desires and significantly improve your sex life. When most people partake in this activity, they're what I'd call H.A.W.T. and make no mistake about it, I just said that!
While you may think that you are a pretty imaginative person, there is always someone that has a more vivid imagination and can make an even more pleasurable erotic story. Many of the authors of such stories chose to share their work online, on sites that deal exclusively with this kind of literature.
One of the most famous ones is the Literotica site that can be used for free and has a large database of erotic stories. But this is not the only place online where you can find steamy erotic literature. Believe me, if you take the time to go through these, you and your partner will turn your sexual encounters into a story-worthy experience.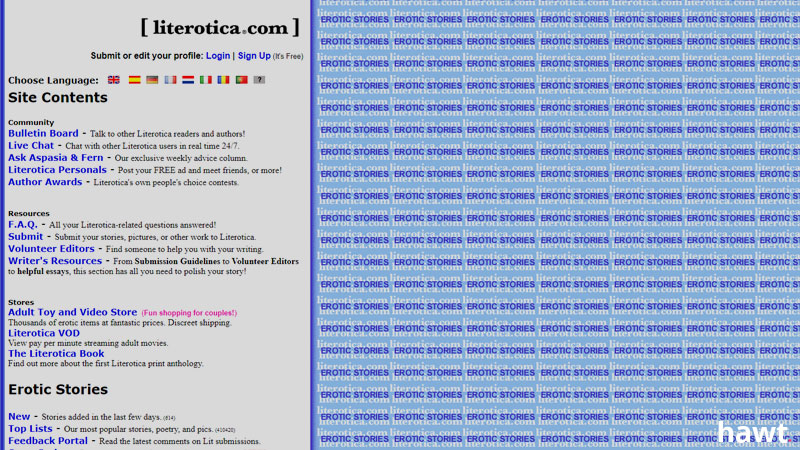 The Top Erotic Literature Sites Like Literotica
Whether you are into reading or not, I urge you to take the time and check out the sites outlined below. You will be amazed by the creativity of the authors and will most definitely enjoy the reads, not to mention the wonders these will do to your sex life.
The stories on this site are divided into respective categories that best describe them. There is a category for everyone, from the humorous stories, college sex up to love poetry and every other type of sexy story there is.
The site has a social network section that allows the users to talk to each other. It is a great little corner of the net where like-minded people that enjoy writing and reading erotic literature can come together and share their thoughts.
This site holds quite the high appeal for people that want to forgo the classic sexy story and enjoy an edgier sexual encounter that threads the thin line between pleasure and pain. If you are an expert on BDSM or just a beginner, there is something for anyone here.
The kink factor is high here, and readers get free access to a large number of short erotic stories and erotic novels. It has a clean design and you can even subscribe to their newsletter to get updates on newly published content.
Even though this site has a funny abbreviated name, there is nothing funny about the contents posted here. There is a fine collection of erotic literature with a straightforward site design with no embellishments, just pure content.
There is a search option, and you can browse authors or titles. There is a very good collections section that is curated by avid collectors and many of these are available for download upon request. This site is free for all and pays their bills from the user donations, and is careful with underage users.
As the name suggests, this site hosts erotic literature written by real people that may even share some of their own experiences. There are hundreds of real sex stories and these are usually short and on the point.
There is a nice story archive that users can browse by genre and read through a list of true dirty stories. If you are feeling brave, then you can even add your own. There is no comments section so you can just enjoy reading or sharing your dirty thoughts and experiences.
The Erotic Woman
This is a site that hosts a growing number of erotic stories, as well as a large database full of galleries with erotic and sensual images. The site is not exactly nicely organized as other similar sites, but it holds compelling contents.
The use of the website is free as is the access to the many erotic stories posted here. The site is sponsored by the visitors that can select to give a donation to help out the developers. (Correction – this site is shutdown now).
This online place holds quite the collection of erotic literature for the LGBT community. If you are a part of that community or enjoy reading about th0ite sexual exploits, then the stories featured on this site should get your attention.
There are various genres and categories, but all revolve around the LGBT premise, so it is a good source for sexual content.
FetStories
Reading erotic stories is a time well spent and visiting a site like this one, one can really get lost in pure sexual or soft erotic literature. It is nicely designed, with a good base of authors and stories.
The predominant theme of the stories revolves around the different fetishes. If crazy, unorthodox fetishes are your thing, then you can find good reading material here.
Concluding Thoughts
With a lot of people getting the courage to write and publish erotic literature, it should be of no wonder that there is a growing number of websites with erotic stories. The list above holds several of the best free sites that feature such content and I've tried to incorporate a little bit of everything for everybody.
The content published on each of these (and many more alike) should serve as a way of awakening your sexuality, finding the courage to try something new and fulfill a lot of sexual desires you never knew you had.
Now, if you're more into meeting people in person, then you're going to want to give this Fling site a shot instead!