It is interesting and fun to chat with random strangers and find one with whom you share something in common. This has been significantly helped by the advancements of technology. In this day and age, we all have our smartphones with us all the time and are connected to the world wide web. This helps us meet new people online, chat up old friends, and hang out with people.
While for some it may be scary to talk to new people, most of us are actually excited to talk to new people and look for the opportunities this online chat can bring. This brings us to a popular site used by consenting adults – Flingster, where adults come to chat with like-minded people and even agree to do more.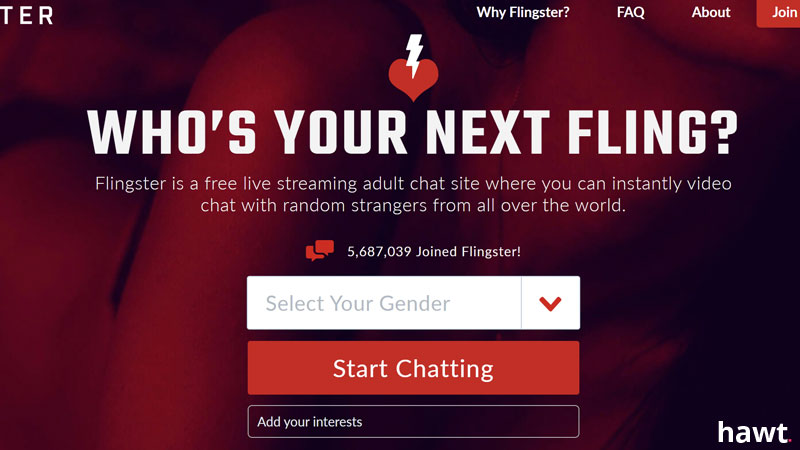 What Can You Expect on Flingster?
This online platform is interesting as it allows the users to randomly chat with a stranger on different topics. But the conversations, no matter how they start, very soon turn to flirts, sex talks, kink talks, and hookups.
This has become one of the most popular adult chat sites as plenty of people enjoy the ease of use, simplicity of the site, and intuitive navigation. This is mostly used by people who have some spare time and wish to spend it talking to other like-minded people. The opportunities to meet someone that you'll like to talk to are excellent as the site is used by well over a million people.
Flingster is widely known as a chatroom for finding random hookups/dates, and this can be done via text, voice call, or video call. It is used by people who like the instant option, as many use it just to find someone to have a fling with, hence the name.
What will it cost you to try Flingster?
The basic use of the site is completely free for all users. You don't even need to go through a lengthy process of registering. Instead, you'll be set up with only a couple of steps, as the registration is free and there are no verification hurdles to jump through.
The site offers its most prominent feature in the free version, this is the video chat, which is why so many people have opted for this chat platform. Still, there is a paid premium membership that grants you important privileges. This pertains to the call settings and search options, as well as the advanced privacy settings.
Who uses Flingster?
Flingster is free for all its users, as the only requirements are that the users are adults. There is no restriction in age, gender, sexual orientation, or relationship status, which practically means all adults are welcomed. It is for adventurous people that like to meet others and talk about random stuff, or for the people looking to find a suitable hookup.
There is no geographical limitation, and you can chat with anyone from all over the world. This is also a convenient way to learn about different cultures and learn interesting new things directly from people.
Since I suppose you are American, it is good to know that over 500,000 people from the USA use this platform daily. So, you have good chances of meeting people well within your vicinity, and increase your shots of finding a fling.
How to sign-up and strike a conversation on Flingster?
The sign-up process on Flingster is so simple, it is unbelievable. To sign up, you only need to enter a working email address and confirm that you are an adult and you are all set. This gets you in the free option, and you can start chatting immediately.
This way, you can check out the community that uses Flingster, and if you like it and decide it is something you would use, then you can pay for a premium membership and get access to all the perks this site has to offer.
Unlike the many other chatting sites out there, Flingster does not invade your privacy and does not allow you to sign up with a social media profile. The privacy of the members is also protected by the face mask features that members can apply to protect their identity.
Once you sign up, the chatting option is there for you to use. We suggest you initially stick to text messaging and once you get the hang of it, try the voice chats, and then graduate to video calls. The matching is random, and you will get matches from all over the world.
One of the perks of the paying members is the selection of the possible matches, so while you will still get random matches, the algorithms will keep your initial preferences like location and gender.
You will find that many users are quite comfortable here and will join with a video right from the start, so you can expect to see a lot of skin. If this is something you don't like, then you should slowly get introduced to Flingster and its options, and when you feel free enough, you can chat with people via video calls.
Profiles and user experience
The profiles of the users hold as much or as little info as the users are comfortable with. But you will not get any information on the person you are talking to unless they share this data with you willingly.
The basic profile that is public only shares your gender and location, and maybe if you select, a couple of words of the type of topic you wish to talk about.
To be certain that you are talking to a real person, look for a verification badge on the profile. Even though you are chatting with an anonymous person, the verified badge makes it more comfortable to know that you are not chatting with a chatbot or a fake account.
The platform matches you with another profile, and to increase your chances, you need to strike up a conversation fast. You cannot browse the profiles and connect with the ones you like.
The randomness of the connection is what makes Flingster interesting, as people with free memberships are not allowed to chat with a chat friend again, only the paying members have this option.
How much will it cost you?
The basic membership on Flingster is free, and all you need is a working email address, and you are set. This is for people that have not yet experienced the true enjoyment of chatting with random people, and wish to see what all the fuss is about. Here we need to mention that the free version comes with all the ads and pop-ups.
The premium memberships come with different payment plans like weekly, monthly, and 6-month subscription plans. But once you become a paying member of Flingster, you will get a verified badge on your profile and you get control over the chat experience. Also, you get the ad-free user experience.
The payments are processed via SegPay, so you don't have to worry about anything unexplainable coming up on your credit card statement. If you like to cancel your subscription, you need to do it via the SegPay payment processor page, which is located at the bottom of the homepage.
Pros and cons of Flingster
Pros
Free and paid options
Great user experience
Intuitive navigation and friendly design
Instant sign up and chatting
Unlimited chat options
Text, voice, and video chat
Great privacy options
Free previews of recorded videos
Over 1 million members globally
Cons
Limited info on profiles
Only paying members get verified
No automatic log out, you can stay active for days without knowing it

The bottom line: Flingster is worth it
The option to chat with a stranger and share your fantasies has a strong appeal, and Flingster offers you exactly this. The premise of the site is nothing new, but the interesting options and great privacy settings are what make it stand above the rest.
There is a simple sign-up process, and only the paying members get verified badges, which helps separate the real from the fake users. Flingster is very popular with adults who are looking for casual flings and hookups, as it is fast, private, and convenient to ask a complete stranger for a random hook-up.
The tagline of the site "Who is your next fling?" is right on point and from more than a million active users from all over the world, it is easier than ever to find your next hook up.
Related Article: Slutroulette: The Chat Roulette Site